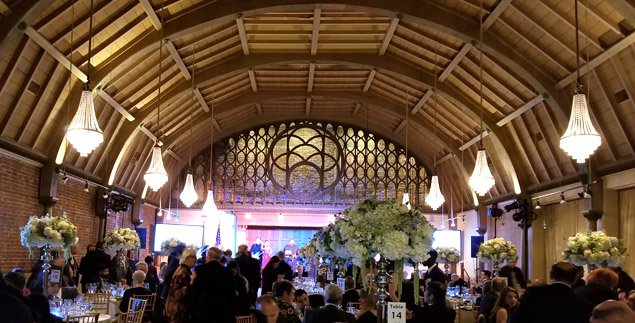 Thursday, April 12th marked a momentous occasion as Century Villages at Cabrillo commemorated its 20th anniversary with a gala in Downtown Long Beach. More than 300 guests were in attendance, including donors, elected officials, sponsors, city and county staff, and Century staff and board members. The event celebrated 20 years of building our community, from humble beginnings to our current collaboration of 11 partners and more than 20 community organizations, countless interns, volunteers and staff who work tirelessly to focus on the needs of more than 2000 residents.
Throughout the evening, we honored individuals whose courage, wisdom, foresight and compassion were instrumental in making the concept of the Villages at Cabrillo a reality. These include Founding Century Board Member Carrie Hawkins (Cabrillo Visionary Award), Former Mayor Beverly O'Neill (Anchor Leadership Award), and Former 4th District Supervisor Don Knabe (Pregerson Humanitarian Award). Congratulations to each of our honorees!
Finally, we would like to thank the many sponsors who have generously helped us continue to make what we do possible, including:
• Platinum Sponsor: Wells Fargo
• Jade Sponsor: East West Bank
• Gold Sponsors: Andeavor, Chase, KPRS, Union Bank, and Walton Construction Services
• Silver Sponsors, Scholarship Fund Sponsors, and other donors.
These contributions will benefit our Oasis Residential Services, which provides life changing support to veterans, families, and children in need. We are also grateful to the Wells Fargo Foundation for their generous $100,000 grant to our Oasis Residential Services initiative! We look forward to what the next 20 years will bring!
View the tribute video that premiered at the gala, showcasing the remarkable 20-year history of Century Villages at Cabrillo.
View more photos in this slideshow, courtesy of photographer Carl McKnight.