The Village Anchor, our quarterly campus newsletter, is a useful tool for telling your stories and communicating events and announcements that are of interest to you. If you have a suggestion for improving the newsletter or would like to submit a story, please call us at (562) 388–8107. We look forward to hearing from you.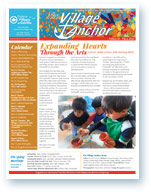 Current Issue:
Archive:
Do you have a story idea?
Please email villageanchor@centuryvillages.org and include a summary of your story.