Century Villages at Cabrillo celebrated the Grand Reopening of its historic Social Hall on November 2, 2016. Thanks to a generous gift from Supervisor Don Knabe along with funding from Wells Fargo and The Ahmanson Foundation among others, the $1.75 million investment will allow the Social Hall to reclaim its standing as the center of community activities at the 27 acre Villages at Cabrillo campus. "We are so fortunate to count on the support of partners like Supervisor Don Knabe that have allowed us to restore this historic community asset at the Villages at Cabrillo," remarked Brian D'Andrea, President of Century Villages at Cabrillo.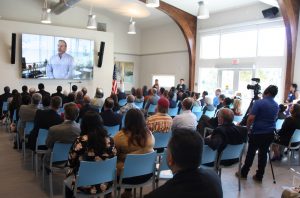 Located in the heart of the Navy's Savannah Housing complex, the Social Hall was once home to community gatherings, dances, and bustling activity within the Navy community. After the Navy closed the Long Beach Shipyards in the mid-1990s, Century Villages at Cabrillo (an affiliate of Century Housing Corporation) acquired the Savannah Housing complex in 1997 and began to repurpose the campus for the benefit of the homeless, including homeless veterans. During the initial development phase, funding for required repairs to the Social Hall was limited. Nevertheless, it continued to serve many important campus functions including use as a kitchen, dining hall, space for resident gatherings, job fairs, a busy career center for veterans, and more. Over the course of the past 18 years the Social Hall, along with the attached U.S. VETS' Career Center, continued to age and required major renovation. With the completion of the comprehensive rehabilitation, the Social Hall has regained its original grandeur and will continue to serve as a central campus amenity serving the nearly 1,300 residents who call the Villages home. These include more than 550 veterans who will benefit from the remodeled U.S. VETS Career Center and a growing family and child population collectively served by a growing amalgamation of more than 20 nonprofit and government agencies, including the Department of Veterans Affairs (VA).
The Social Hall restoration project, combined with site improvements along River Avenue, will create a future hub for transit activity on campus, improving access to vital services and job centers while reducing greenhouse gas emissions. Designed by The Architects Collective and City Fabrick, the project was constructed by Walton Construction Services.
The Grand Re-Opening included a tribute to CVC's long-time supporter, Los Angeles County Supervisor Don Knabe.