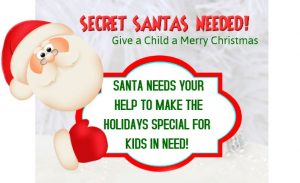 UPDATE FROM THE NORTH POLE…
All 127 children have been adopted by a Secret Santa thanks to the 35 wonderful donors that helped Santa this year! 
THANK YOU!!!
~SANTA
If you still want to help this holiday season we are always in need of the following items:
-Non-perishable food items
-Gift cards for groceries (Albertsons, Walmart, Target)
-Full size toiletries
-Gift cards for teen gifts (i.e. Game stop, Target, Walmart)
Please contact Jaylene at you have any questions about Secret Santa or holiday giving opportunities at 562-388-8082. 
You can also make an online tax-deductible contribution simply by clicking the DONATE button below.
Thank you for your help!