Thank y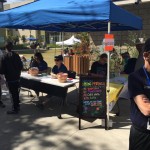 ou all for helping to make our recent Health Fair and Spring Festival a success! The weather was beautiful, the music and games were fun, and the hands-on demonstrations and exhibitors were great.  The event was so large it spanned across the grand lawn, the courtyard, and Cabrillo Gateway!
It was amazing to see all of the energy, and most importantly we have received nothing but positive feedback from the over 300 residents who attended.  The combination of interactive booths, health information, hands on demonstrations, and fun wellness activities proved very successful and we couldn't have done it with the support of over 30 community partners who hosted a table or activity (listed below).
A big thanks goes out to our awesome volunteers from AmeriCorps Community Clinic Association of Los Angeles County who were instrumental in planning this event!
And of course to all of the CVC staff, especially the Oasis and event planning teams, our community volunteers from the boys groups, resident volunteers from Cabrillo Gateway and US VETS, volunteers from our partner agencies, CVC interns and volunteers who worked tirelessly to make the event a success for our community.
Thanks to all of our supporters including Tesoro Corporation who help underwrite resource fairs like these we were able to provide crucial health and community information to our residents while offering fun family friendly games and activities, enjoy a live band, and of course food and drinks all free of charge.  In addition to providing resources to the community, events like these provide an opportunity for neighbors to come together and share a lunch and the day visiting and getting to know each other–which ultimately strengthens our community.
Thank you again, we couldn't have done it without each and every one of you!
A Special Thanks to our Vendors/Exhibitors
ACA Insurance Booth + Continual care/referral
American Red Cross Los Angeles Region (California SafeCorps)
BE BOLD teen group
Black Infant Health
City FaBRICK
Comprehensive Child Development Center
DHHS Healthy Active Long Beach
Diabetes, Healthy Eating, Exercise Booth
DMH / Long Beach Mental Health
Groundwork Fitness
Help Me Help You
John Oppenheim-Veterans Yoga Project
KOREH L.A.
Long Beach Alliance for Children with Asthma
Long Beach Community Action Partnership
Long Beach Memorial "Long Beach has the Conversation"
Long Beach Time Exchange & Building Healthy Communities
Long Beach Department of Health and Human Services (Mobile Unit)
Low Vision Center
Medical Experience through Service in Healthcare
Mothers Nutritional Center
Oasis Community Center
Occupational Therapy Group
Oral Health Booth
PATH Ventures

Patty Rassouli-Reiki Master Teacher, Yoga Teacher and CVC Volunteer
Safe Refuge
Sexual and Reproductive Health
The Children's Clinic "Serving Children and Their Families"
UCLA Cooking and Baking Club
UCLA Stroke Force
VA's Primary Care Outpatient Clinic @ Villages at Cabrillo
VA's Smoking Cessation Program