Transforming the CVC social hall into an inspiring, flexible, & dignified space that does justice to its history & people.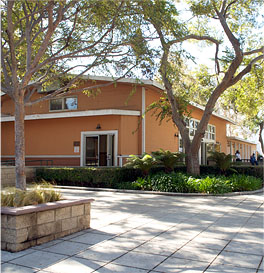 Located in the heart of the Navy's Savannah Housing complex, the Social Hall was once home to community gatherings, dances, and bustling activity within the Navy community. After the Navy closed the Long Beach Shipyards in the mid-1990s, Century Villages at Cabrillo acquired the 27 acre Savannah Housing complex in 1997 and began to repurpose the campus for the benefit of the homeless, including homeless veterans. During the initial development phase, funding for required repairs to the Social Hall were limited. Nevertheless, the campus made do with the existing facility.
Over the years, it has continued to serve many important campus functions including use as a kitchen, dining hall, space for resident gatherings, job fairs, a busy career center for veterans, and more. However, over the past 17 years the Social Hall, along with the attached US VETS' Career Center, has continued to age and is in need of a major renovation.
The time has come to restore the Social Hall to its original grandeur and pay homage to its Navy history. In 2012, Century Villages at Cabrillo initiated a drive to create a new vision for the space, seeking to transform the hall from a dated and dilapidated shell into an inspiring, flexible, and dignified space that does justice to its history and the residents that currently occupy it.
Our vision is to redevelop the Social Hall into a vibrant social place for informal gathering as well as flexible space for the expansive programs that our partners offer to the residents. In addition, we envision a modernization of the US VETS Career Center to better serve the needs of thousands of veterans that visit the center each year. CVC's population continues to expand; today, it is home to more than 1,000 residents, including more than 550 veterans, and serves nearly 2,000 people per year.
The Social Hall modernization will upgrade the exterior building envelope, transform the main hall into a multi-function space utilizing a moving wall and flexible lighting, and employ the latest environmentally sustainable features while retaining the building's architectural character and historic place in the community.
Download the project brochure for more about this important investment.
To learn more about the people and places that define CVC, please download the 2014 Social Impact Report.